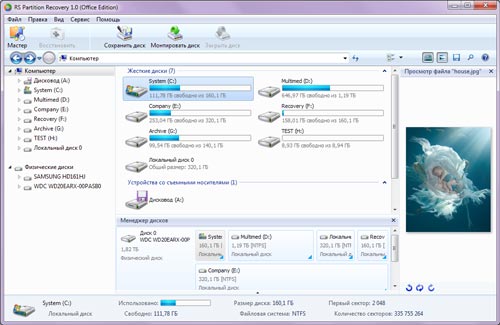 As we now store the information? Previously, we recorded in a notebook that is important, and then tried to keep the programs, pictures and movies to CD or DVD. It is now probably no one does. Everyone is used to store information long-term or current hard drives or USB flash drives.
I've never thought that reformatting the drive or USB flash drive and even breaking it down into sections is not too late to restore the information that was there. Did you know about that?
The program supports all kinds of operating systems.
Program features:
Recover data lost after formatting or deleting a logical partition FAT or NTFS;
Recovery partition damaged after a power failure or equipment, system failure or other reasons;
Data recovery from HDD drives of all types, as well as all types of removable media;
Recover data even from badly damaged sections through a new in-depth comprehensive analysis of extant data;
Correction of corrupted partitions and recreate "from scratch" severely damaged disks logical structures;
Opportunity to "restore pending" data using virtual disk images;
Document Recovery Microsoft Office (Word, Excel, PowerPoint and others.) Documents Adobe Reader, database files, digital images and pictures in any format, video and audio files;
Support for popular file systems exFAT / FAT 16 / FAT 32 / NTFS / NTFS 4 / NTFS5, and popular operating systems Microsoft Windows, including XP, 2003, Vista, 2008 Server, and Windows 7.
In our high-tech and deep-time information such facilities are very important to always have on hand.