How to install Skype 2 on the same computer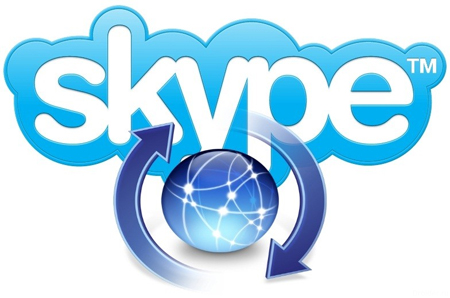 Many users prefer Skype two or three accounts: one - the personal, the second - working, and the third - yet for some purposes. Run on the computer two accounts in QIP or ICQ is very simple, but with Skype, things are more complicated, because sometimes Skype can behave capriciously. When using Skype, multiple users each with its own password. The user first login in Skype to go with the already familiar login and with another account - go with Microsoft recording, introducing e mails, on which was registered. This is the variant when you can not go to a second login through the usual panel of Skype. But it is much easier to use not one, but several Skype. Here you will learn how to install 2 (or more) Skype on one computer. How to install two Skype on one computer This method only works on the new version of Skype.Download

Skype

. 1. The first thing you need - is to get out of Skype, which is now installed on your computer. If the taskbar after the release of Skype Skype remains a shortcut - click on it, right-click and select "Quit Skype».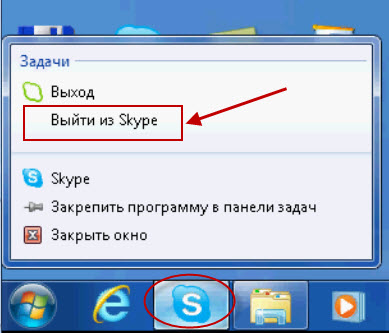 2 Next, you need to install on your desktop a new shortcut Skype (old label can either remove or leave - as you wish). To do this, go to

C: \ Program Files \ Skype \ Phone \

and find the file there

Skype.exe

3. Click on the file, right-click and select "Send to desktop" (create shortcut)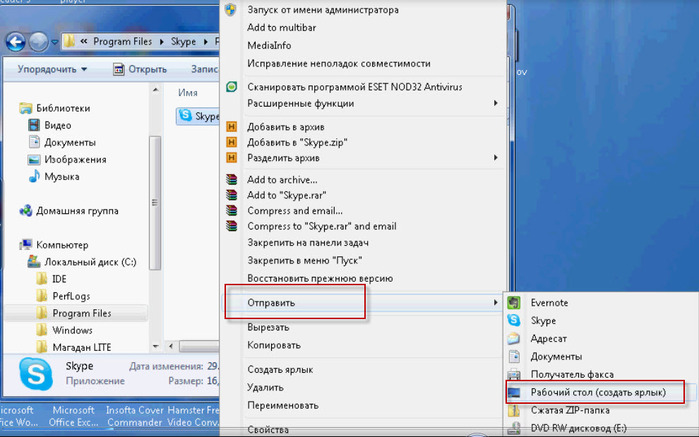 4 From your desktop, find the newly created shortcut, right click on it and select "Properties." Under "Object" is necessary to add

/ secondary

to a single label was able to open a second account.

Caution

Always put SPACE after

Skype.exe "

! Should be:

Skype.exe "/ Secondary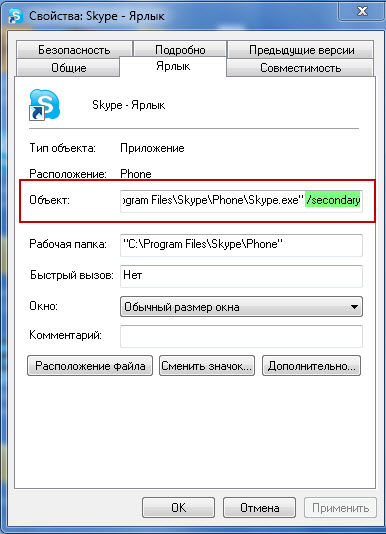 Now you will easily go down in the second Skype, clicking on the same shortcut on the desktop (to access two different Skype use one label). But every time you need to re-enter the password for the second Skype. therefore sometimes more convenient to not write

/ Secondary

(highlighted in green) and the right to register a login and password.


/ Secondary / Username: LoginSkype / password: VashParolv Skype
For example,

C: \ Program Files \ Skype \ Phone \ Skype.exe "/ secondary / username: admin / password: 12345

(and do not forget the spaces) Where exactly should be placed gaps in the figure marked in blue (all the rest - no spaces).

In this embodiment, it is more convenient to install the desktop shortcut Skype 2 and for each register your username and password. Then you will go to each of them at once as soon as click on the label label name can be changed to any. Though Skype2. First run Skype1, ie when you first install the program, and then Skype2, and Skype3 by analogy. It is important that you can login in launching any shortcut and select login or create a new entry for the third, etc. (As in the QIP). Therefore, it does not matter, there will be two or three tabs on the "desktop", if you want to run just three Skype. To remove an account from the launchpad (for example, delete user names from which you run on your computer), you need to select "START", then click "Run" and copy the window: «% APPDATA% Skype» (without the quotation marks). Next, delete the folder with the name of logins. Useful comment from Ginger-fox earlier in Skype could go - into a single program with multiple logins, alternating between them. To go with a login - you need to get out of one and go with another fit. Not so long ago - something different. Do not give your login. More precisely it is (at check in - what you are typing in the string "First Name Last Name", apparently, is what they mean login) is recognized when searching for the user, but to go with this login proved problematic. Opening Skype - it can be administered to the string "Login Skype", but Skype will not let me. Skype gives entrance, if you go through the Microsoft account, inserting into the login window - address Mehl (well, and password in the box below). Otherwise they will not let me. turns out that the old logins - work, come as usual. If checked recently - come through Microsoft. But it is not all easily. Skype may be capricious. For example, when running Skype can inhibit, ie does not issue a page in which there are windows to login or to log on with an account from Microsoft, ie as if the cargo and freight. Alternatively solution to this issue - the former Skype carry, and install a new one (you can not endure, if all goes well work). From which to install several shortcuts on your desktop. One call one login (you can drive straight and your password will immediately be opened if went with login). The second call other login - that account through Microsoft (pre-drive with a password and remember) and go just by opening this shortcut.